Ah, January! How the bargain hunter in me loves you! Between overstock from Christmas, the appearance of the Spring lines, and our empty post-holiday wallets, everyone is having great blowout sales. Now is the perfect time to stock up on bedlinens, refresh your bathroom with all new towels, or just get yourself the coat you've been dreaming of.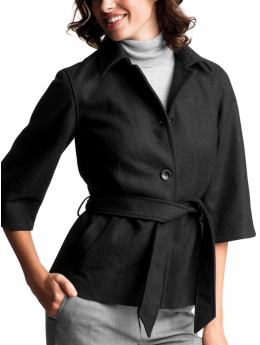 This cute wrap coat from The Gap isn't really the most practical thing for winter anywhere it gets truly cold, but it's just the thing for brisk early spring mornings. That means you can get it now and wear it as soon as the ice starts to thaw.
When this one came out, it was priced at $98.00, but right now you can get it for just $29.99! But wait, there's more good news: it's available in sizes XS – XXL and in Tall and Petite as well as Regular sizes.