Ah, spring! One of my favorite things about the season is the abundance of delicious, fresh fruit coming into the peak of flavor. Yesterday, I was at my friendly neighborhood grocery store when I was nearly bowled over by the luscious fragrance of ripe strawberries. And they were on sale, too!
In honor of the event, I'm celebrating fruit in today's column.
One of my all-time favorite fruits has to be apricots. They're the perfect balance of sweet and tart, and I adore the texture of them as much as the aroma and the flavor. Imagine smelling like apricots and cream.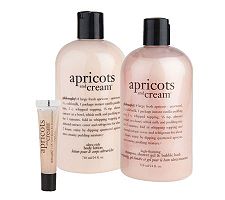 You can do just that with this apricots & cream bath set
by Philosophy. You'll get a 24 oz bottle of shampoo, shower gel, and bubble bath, a 24 oz bottle of body lotion, and a 0.5 oz flavored lip shine. Delicious and clean. I like!
I also like the price. The retail value is $67.00. But you're going to race over to QVC.com
to get it. Their regular price is a thrifty $52.50, but right now you can get the superfantastic introductory price of just $48.06. Again, delicious.