It comes in seven different gorgeous colors. It comes with a free ice cream scoop accessory. It's nearly forty dollars off the original price, and comes with a $20.00 rebate offer. It's sturdy and handsome and efficient and will look terrific in your kitchen.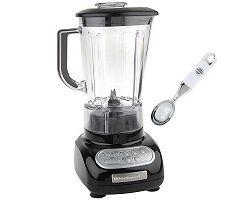 It's the KitchenAid Ultra Power 5 Speed Blender
. With this baby, you can mix smoothies, milkshakes, cream soups, crushed ice, and more to your heart's content. The sturdy KitchenAid construction means it will last for years, and the classic design means it will look just as good twenty years from now as it does today.
Of course, all this power and elegance doesn't (usually) come cheap. The retail price on this blender is $137.00, which certainly isn't at all bad for what you're getting. But why stop at not bad when you can get an actively good deal? If you head over to QVC
right now, you can find this superfantastic kitchen appliance on sale for just $99.96. That's much better. In fact, that's more than $37.00 better.
Better yet, there's a rebate offer from KitchenAid. Buy this blender now and you can get a $20.00 cash rebate, too!
So, to sum up: powerful, long-lasting, good-looking blender; nearly $40.00 off the retail price; further $20.00 cash rebate; free ice cream scoop.
This is the sort of deal I love.