Just as the dead of winter is a great time to find a deal on a bikini (assuming you can find a bikini for sale), the dog days of summer can produce fantastic savings on winter items. I once found a gorgeous suede coat in the middle of summer for just $35.00. It kept me toasty all the next winter…and the one after that. I expect it to keep me warm this coming winter, too.
Why do I mention this? Because now is the time to stock up on cozy warm bedding for the upcoming winter months. Right now it's so hot stores can't give away heavy blankets and comforters.
And that's how Overstock.com manages to have this amazing deal on this handsome Trovare lambswool/cashmere blend blanket.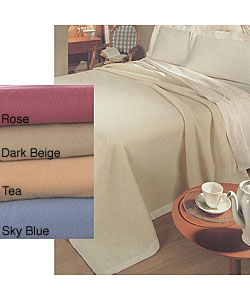 Cashmere blends with the finest Austrailian merino lambswool to create these lucious blankets built to last a lifetime. You'll still be snuggling up in them during the winter when you're sixty-four…and beyond. The four soft colors will work in nearly any color scheme, too, so redecorating won't be a problem.
Normally one of these would set you back $239.00, but during Overstock.com's Bedding Blowout, you can get it for just $95.99! That's a savings of 60%, which isn't half bad…it's 60% good.