I love vases. Fill them with flowers and you can enjoy the delights of the garden indoors. Sit them empty on your shelves and windowsills, and you can enjoy the artistry of the human hand. Fill them with something unexpected – say, for instance, a cheerful bouquet of pinwheels or a clutch of exotic feathers – and you can amuse anyone who happens to see them.
To get the best out of a vase, though, you need a particularly nice one. The good news is that this needn't break your bank – not even the piggy one!
Don't believe me? How about a few examples.
The first one comes from Bellacor
. One look at the pretty stripes and charming shape made me want to gaze at it in perpetuity.
So very pretty. It stands some 18″ high, so it will look quite impressive on its own. This is a good thing because it's designed to be used with only dry displays. Remember those feathers I was talking about? This would be a wonderful place for them.
This is also a case of a tremendous bang for your buck. The retail price is a $80.00, which is quite a nice price for something that will look so handsome in your home. But why pay retail when you can get a deal? Bellacor usually carries it for a thrifty $68.00, but right now – if you hurry – you can get it for the basement bargain price of just $28.00!
Or you may want something a bit more light-hearted in basic appearance.  How about these?
How charming is that? Two pretty tropical fishes
that will hold a pretty bud or two each. They are both mouth-blown borosilicate. But that's not the important thing. The important thing is that they used to cost $45.00 at Viva Terra, but have been marked down to just $18.00 for the pair!
At that price, why not buy an entire school? It would show no end of class.
Of course if you're looking for a classy accent for your home, you could do a lot worse than choose a lovely vase from Lenox.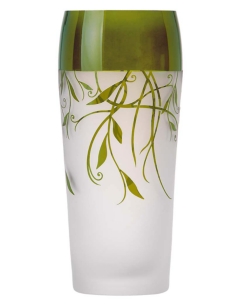 How pretty is that? With it's dramatic band and vine design in green on white frosted glass, it's a gorgeous addition to any home, but it won't upstage your flowers. It would also make a wonderful wedding, birthday, graduation, or anniversary gift…but you might want to get one for yourself while you're at it. After all, the suggested retail price is $58.00, which is quite reasonable, but if you buy it right now from Macy's
, you can get it for a mere $39.95.
As I said, get one for yourself, too. You won't regret it.