It's spring and I can't help thinking of rabbits.
And, of course, I can't help thinking about bargains, too. Here are the few of the bunny bargains I've found for your shopping pleasure.
We start our journey at Cooking.com
, where I found this adorable
Chef'n Grabbit Salt Grinder
, complete with lovely long bunny ears.
How cute is that? Not to mention practical. Oh, and it also comes in a pepper grinder version
. They normally sell for $24.95 each, but right now at Cooking.com you can get them for $17.99 apiece.
If you're looking for a fun springtime touch for your table when company comes over, you might consider this delightful covered vegetable dish from Fitz and Floyd

in the Florentina pattern. It's hand painted right down to the bunny on the lid. Hand wash to keep it nice for years to come.
The regular price may be $90.00, but it can be yours right now for just $45.00. Oh, and if you order $75.00 or more from Fitz & Floyd right now, you can get free shipping! See site for details.
When I was a child, I had a very special thing: my own place setting of dishes. My mother would pull it out for me to eat from on my birthday and on other special days through the year. I loved it. I particularly loved the bunnies on it. This isn't quite the same set, but you can't go far wrong with either Wedgewood or Peter Rabbit.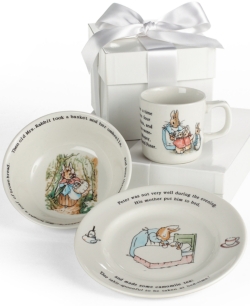 Combine the two
, and there's just no denying the superfantasticness. This beautiful set by Wedgewood includes both quotes and original illustrations from the Beatrix Potter classic. Included are a mug, a bowl, and a plate, all perfectly sized for a child. Then again, you could use it for display or eat dainty carrot-flavored nibbles off the plate.
The set usually costs $35.00, but is on sale at One Day Sale at macys.com! Offer Valid 07-Apr-2009 through 08-Apr-2009.
right now for just $24.50.