Ah, spring! One of my favorite things about the season is the abundance of delicious, fresh fruit coming into the peak of flavor. Yesterday, I was at my friendly neighborhood grocery store when I was nearly bowled over by the luscious fragrance of ripe strawberries. And they were on sale, too!
In honor of the event, I'm celebrating fruit in today's column.
One of my all-time favorite fruits has to be apricots. They're the perfect balance of sweet and tart, and I adore the texture of them as much as the aroma and the flavor. Imagine smelling like apricots and cream.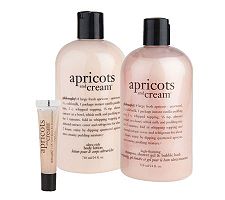 You can do just that with this apricots & cream bath set
by Philosophy. You'll get a 24 oz bottle of shampoo, shower gel, and bubble bath, a 24 oz bottle of body lotion, and a 0.5 oz flavored lip shine. Delicious and clean. I like!
I also like the price. The retail value is $67.00. But you're going to race over to QVC.com
to get it. Their regular price is a thrifty $52.50, but right now you can get the superfantastic introductory price of just $48.06. Again, delicious.
Many of us like to show some sign of the season before you come into our homes. One way to do that is to get this cheerful coconut fiber doormat
, painted with fade-resistant inks.
It would put a smile on my face to see this outside my door every morning when I go out to get the mail. Apples, cherries, pears, oranges, lemons, strawberries…I smile just thinking about the abundance of nature.
Another thing that makes me smile is the price tag! It was originally $32.95, which is a pretty decent price for a good, long-lasting doormat. Now, though, it's on sale at Wrapables.com
for just $19.99! I call that a small price to pay for that many smiles.
Speaking of putting smiles on faces, I dare you to look at this Watermelon Platter
from Cooking.com
and not smile.
There's a close-up photograph of delicious sliced watermelon fused into a 12″ square glass platter. What could be more perfect for a summer barbeque or graduation party?
Oh, and if you know a friend who needs one of these, you won't even need to hesitate before ordering one for each of you. The price used to be $39.95, which was a great deal. On the other hand, the current price of $29.99 is even better.
Sometimes you don't need the thing you buy to do anything at all. Sometimes it's enough for it to be pretty. If that's what you're looking for, take a glance at this decorative nickel pear ornament from the New York Botanical Gardens Gift Shop.
At 9¼" H x 9 2/3″ W x 5¼" D, it's a great piece to add a graceful touch to a mantelpiece or china cabinet, or even a coffee table.
At the original price of $88.00, it made a nice dream, but now that the price has been slashed to just $22.00, that dream is completely attainable.