I think we all know by now that one of the must-have accessories for spring is the tote bag. Chances are you already have one or two hiding in your closet gathering dust. Whether you went to a convention or supported PBS, you already have the basic shape. What you may not have is the style required to make a fashion statement.
There are a lot of statement totes out there if you're willing to spend hundreds of dollars on them, but let's not kid ourselves. Totes are not staples, they are short-term trends. If you want one, it's best to find a budget model that merely looks like you spent hundreds on it.
So how should you spend your tote dollars? I have a couple suggestions right here.
For starters, you could do a heck of a lot worse than this fuchsia quilted faux leather tote
.
Between the bright color, the quilted material, and the convenient zipper closure for security, it's a great choice for a warm weather carryall. On top of all the style, the price is definitely right.
You see, it started out at $82.99, which isn't bad. It's better now, though, at just $40.99 at <Amazon.com
. Now that's the sort of price I want to pay for a tote!
Of course, there's nothing like a classic canvas tote
for long-term usability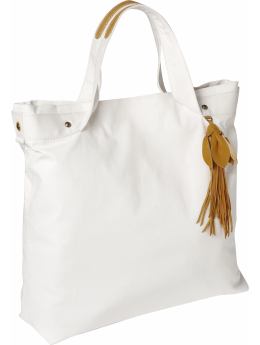 This one is from Gap.com
and it's perfect whether you're headed out to lunch or off to the beach with its leather trim, including the sassy tassel. It's even big enough to fit your laptop in case you want to write the Great American Novel at your local coffee house.
Even better than the clean, classic look is the classic price. Originally priced at $49.50, it's now marked down to a mere $29.99. Now that's what I call budget friendly!
Then again, not all of us are classic girls. Some women want something a tad more Bohemian in style and socially responsible. Not to worry, I've got you covered, too.
Not only is this unique bag sure to catch peoples' eyes in the streets, it's also doing good for the world. They're made by hand by Nepalese and Tibetan natives using natural dyes. This provides crucial income for the people making them while providing you with a one-of-a-kind accessory.
So who brings this wonder to your door? Why, VivaTerra
, of course. As for the price, it used to be $69.00, but has been marked down to just $34.00!
One of the great things about tote bags is that they can be a touch on the outrageous side. If you need to carry a lot of stuff and are dressing down a bit, this Hurley canvas Poppy tote just might be the ticket for you.

Hurley – Large Canvas Poppy Tote (Blue) – Bags and Luggage

Between the bright stripes and the clever rope handles, this is a great bag for busy but casual days.
Speaking of casual, the price is low enough to make this an entirely casual purchase, too. It was originally priced at a thrifty $38.00, but now it's an absolute steal at a mere $22.23 at 6 pm

Tote up the savings and you'll agree that you need a great tote this spring.