Whether you're looking for an extra layer of warmth to add to a coat for the last blasts of winter or a lighter-weight wrap for the first flush of spring, a pretty shawl is a very useful item. And if you're looking for a shawl, paisley is always a good way to go. Paisley is classic, so it will never look horribly dated. It's been popular for shawls for over two hundred years with no sign of falling out of favor.
Combine paisley with gorgeous colors and a touch of cashmere, and you're looking at something that will last for years, always useful, always elegant, always the perfect touch to complete a great outfit. In point of fact, one just like this
is a great investment.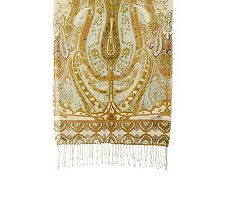 It's made of a lightweight cashmere and printed with a paisley pattern in your choice of three lovely colors: caramel (shown), blue or rust.
As for the price, well, the retail value is $110.00, but it can be yours from QVC.com
for a mere $81.00.
Wrap yourself up in that deal, my friends. It's well worth it.