Okay, so it's still January. I know that. But the fact is that even while it's very, very cold in a lot of places, the days are beginning to lengthen, the temperatures are starting to rise in a lot of other places, and dammit, I need to remember that there will be warm weather again and a reason to haul out my best sandals.
That's where shopping is an excellent pastime. No matter what the season, you can bet that most of the stores have moved on from this one midway through and are merrily on to the next. This may make trying to buy a white, short-sleeved blouse in August more difficult that finding a unicorn to ride in the Thanksgiving Day parade, but it makes window shopping in January (or even real shopping in January) a bit more fun. You're preparing to say hello to the sun again, and that's okay by me.
So what can we find that speaks of both spring and good savings? Just take a lookie here:
This cute little satin cami will look cool as a cucumber once the weather warms. Oh, and in addition to basic black, it also comes in floral print. What's more it comes in average, petite, and tall sizes (sorry, you tall gals only get the black, I'm afraid) atOld Navy
.
Oh, and as to price, it started out at a thrifty $24.50, but has been marked down to a mere $3.99! That's not a typo, folks, this top is really only four bucks right now.
Another great look for spring is this cute tank dress with zippered details.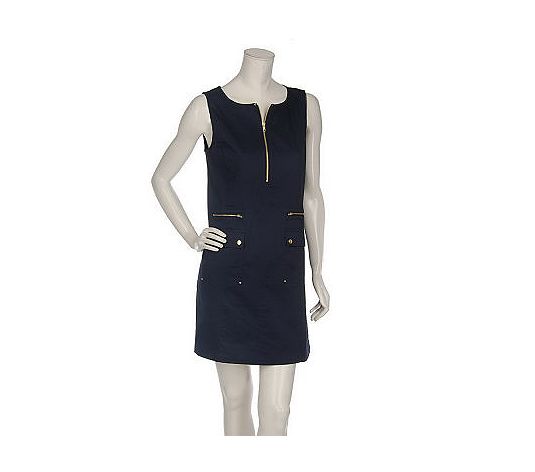 It comes in white or (as shown) navy cotton sateen and is designed by Linea by Louis Dell'Olio. Oh, and it happens to come in sizes from XS up to 3X! The retail value is $77.00, but right now at QVC, it can be yours for just $49.50.
And of course when the sun comes out, you'll need a superfantastic hat to keep your skin protected from damage…or possibly to hide your identity when you slip out of work early to hang by the pool. Whatever the reason, this braided raffia hat by Flora Bella will do the trick:
It's decorated with a row of shell buttons and comes in natural or black. The original price was $60.00, but Bluefly has it on sale for just $29.99 right now!
So if you're missing the sun, take a look around your favorite shopping sites. You may find not just hope for a brighter day, but great deals on items for those days!