I must confess that I have a particular fondness for a pretty pitcher. Glass, ceramic, silver…I just have a thing for graceful lines and pouty lips. Okay, maybe these aren't the kind of lips that really pout, but I have an imagination and it comes up with odd connections now and again.
But of all possible pitchers, I admit that I do have a favorite. I'm a complete sucker for a glass pitcher, preferably hand blown with some color to it. That's why I fell in love when I saw this
: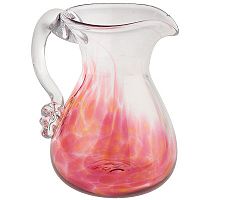 Just look at the elegance of the line, the lip perfectly proportioned to pour generously with little or no spillage, the easy use of color, and the charming detail at the base of the sturdy handle. This is no terrifyingly delicate piece that must be protected under, well, more glass. This is a pitcher you can use and enjoy, whether for drinks or displaying pretty flowers. And yet it perfectly showcases the fragile beauty of glass.
It's hand blown in Ireland by Jerpoint, stands 8 1/4″ tall, holds 1 1/2 quarts, and even comes in two colors. The picture above shows it in Honey, but it also comes in Seascape Green.
As for the price, well it used to cost $79.00, which was a nice deal. Right now, though, QVC.com
has it at the basement bargain price of just $45.21!
Now if I could just figure out whether I'd rather fill it with lemonade or larkspur….