Even though spring has not yet sprung, I find myself thinking of green things and pretty plants…and then I think of how I kill plants by merely looking at them and turn my mind to representations of the same plants in hopes that mere representations will survive my attentions.
Of course, it's still cold at night and that makes me think of snuggling up warmly under a warm comforter.
Put those two urges together, and I found just the thing to satisfy both desires at Macy*s.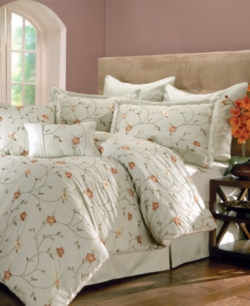 The Victoria Classics "Camille" 8-Piece Comforter Set
features a pattern of scrolling vines and delicate flowers embroidered on a pale green background. The set includes: a comforter, a bedskirt, two standard or king-sized pillowcases, two European shams, and two decorative pillows. Just add the coordinating 300tc sheets and go! Or pick sheets of your own.
Either way, this is a great deal. The original price on the set was $200.00 for the Queen size set or $250.00 for the King size. Right now, though, you can have your choice of either size for a mere $99.99!