Once upon a time Tiffany was the name in stained glass. It's still definitely a name to conjour with. But these days there are other names…names like JJ Peng.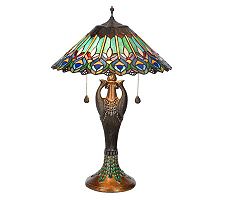 This stained glass peacock lamp
by JJ Peng features 415 glass cuts, 18 cabochons, and 18 JJ Peng gold nugget cuts. The base is a pair of patinaed bronze peacocks. What's more, this is a limited edition piece. There will only be 700 made.
The retail value is set at $242.00, which is pretty good for this level of design and workmanship, particularly for a limited edition. But you know me. I'm not going to let you pay full price. I'm going to send you to QVC
where you can get it for just $159.00.
I light up just thinking of the savings.