I always say it's never too early to start being superfantastic. Choosing quality for your little tykes will help them along the path from day one. Of course, it's also never too early to teach your small ones about careful shopping, either. That's why this week's Friday Finds is all about big deals for little people.
The Tea for Three play tea set
is a great example of this concept. Made of sturdy, cheerful enamelware, it comes complete with a teapot (which looks more like a coffee pot, but would work for either beverage or hot chocolate), three tea cups, three saucers, and three plates. The whole set is decorated in a delightful flower design with grasshoppers, bumblebees, and ladybugs. It's recommended for ages three and up…and my guess is that a kid who enjoys this would continue to do so for years to come, as well as appreciate the charm of a proper afternoon tea.
Best of all, if you order it now from The Land of Nod
, you can save enough to fund the scones and clotted cream! The original price was $54.00, but it's been marked down to a thrifty $39.00.
Want to see more great deals? Just follow the bouncing blog cut.
Of course, you can easily start well before a child turns three.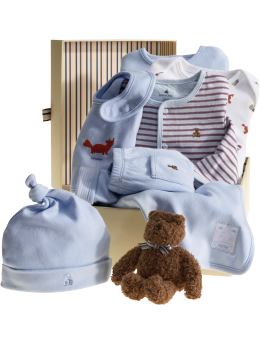 The GAP Ultimate Baby Boy Shower Gift set
will start baby off on the right foot from the moment he arrives. In it, you'll find a versatile set of baby basics that look great. There's: a striped knit one-piece, a lap shoulder fox graphics bodysuit, a pair of knit reversible pants, soft knit reversible cardigan, soft knit reversible blanket, fox print bib, soft knit hat, and plush 6″ bear rattle. All of this will introduce him to the excellent concepts of a well-coordinated wardrobe and proper accessories.
It's also a great deal. Originally priced at $100.00, it's now just $49.99. Oh! And if you spend $100.00 at The GAP online now through December 14, you can get $20.00 off by using the code GAP20.
Aplomb in public is the essence of superfantastic. What better to give a child than something to help develop self-confidence?
This electronic microphone
works with four C batteries, and includes three different drum effects, as well as cheering and applause buttons to help your little performer learn to share joy in music. Or speechifying. I've always thought the State of the Union address would be awesome with the right drumbeat behind it.
Anyway, it normally costs $27.99, but is on sale at Back to Basics Toys
for a mere $19.99. Get one for every niece and nephew. Your siblings will never forget you.
Another hallmark of superfantasticness is appreciation of a classic. And what could be more classic than a good teddy bear?
This adorable fellow is known as Allington, and he's about as classic as classic can be. He's made of a lovely caramel brown plush, stands 11″ tall, and is ready to keep your kid's secrets safe and sound.
Normally priced at $29.99, it's on sale at Free Bears.com for just $1897. But that will be our little secret.
Teach your children well, and they'll grow up to be superfantastic.