A good watch is both practical and attractive. And with all the handsome watches out there, there really is no excuse for wearing an ugly one.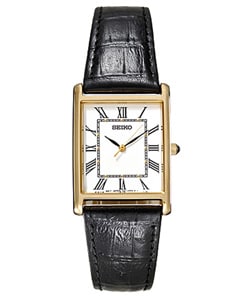 This Seiko men's watch
is my idea of a superfantastic timepiece. I love the clean look of black Roman numerals on a white background and a simple leather strap. It looks neat, and gets you taken seriously. What's more, the quartz movement keeps time well, so you'll always know what time it is.
Best of all, it's on sale. The retail value of this great watch is $140.00, which isn't too bad for a good watch. But why go for 'not bad' when you can get a great deal? Right now Overstock.com
has it for just $84.99 for a savings of $55.01!
I don't know about you, but I think it may be time for a new watch.