I've been a fan of the Bravo series Project Runway almost since it's inception. So it seems fitting that on the day after the Season 5 finale I feature a design by one of my all-time favorite contestants on the show. Season 3 finalist LauraBennett always had a style that appealed strongly to me. Over and over, Tim Gunn spoke in his commentary and podcasts about her meticulous attention to detail and excellent finishing work.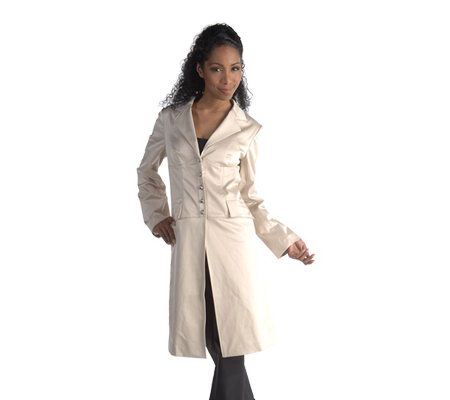 This corset detail coat lives up to the Laura Bennett standard of classic elegance and versatility. It's made of a stretch satin and comes in either champagne (shown) or black. It's unlined, but the customer comments all mention the excellent seam work that renders lining unnecessary. The corset detailing gives a touch of definition at the waist that I really like.
The great thing is that this coat could work for someone with a classic, minimalist, or even slightly Bohemian style entirely depending on what you choose to wear with it. Oh, and for our plus-sized sisters, it comes in sizes up to 28.
And of course, since you're seeing it here, you know it's on sale. The retail price is $138.00, but you can get it right now from QVC for just $103.00. For a coat this gorgeous, that's a fabulous price!