It can be hard to keep up superfantastic style when you've got a baby or a very small child to care for. Let it never be said that the Manolosphere is unwilling to help the new mother maintain the level of chic she wishes to embody.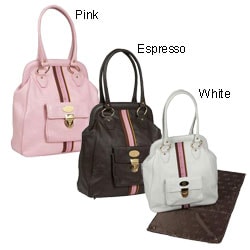 The Christine Price Haute Olivia Diaper Bag/Purse is here to help you look every bit as fabulous as you are while still carrying everything you require to tend to your baby's needs. It comes in your choice of white, pink, or espresso Nappa calfskin leather with a distinctive striped strip down the front.
Multiple pockets will hold everything you need from bottles to your cell phone, and it comes complete with a changing pad.
Of course, a terrific bag like this doesn't come cheap…most of the time. In fact, it usually costs $399.00. But if you head over to Overstock.com today, you can get it for just $89.99! That's 77% off the regular price! Get it today for yourself or the soon-to-be mom of your choice.
Trust me, you can buy a lot of diapers with the money you save.