The test of a really delicate, perfectly made pashmina is if the entire shawl will slip through a finger ring.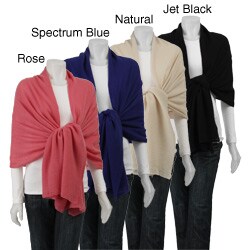 Overstock.com says this one passes the test…and at the price they're selling it for, it would be easily worth it to test the theory.
This 28″ x 80″ 100% pure Pashmina cashmere shawl is handwoven in Nepal into a subtle diamond pattern and finished with a lock fringe. It comes in three classic colors to fit with any wardrobe for years to come.
What would you pay for all of that? Well, originally you would have been expected to pay $350.00…but not anymore. If you hurry, you can get it from Overstock.com for just $59.99! That's a savings of 83%, or more than $290.00!
Now that's what I call a basement bargain!