With the price of gas right now, a lot of people are staying home for the summer. That means luggage languishes waiting to be taken home by someone who will love it…and then taken somewhere slightly more interesting.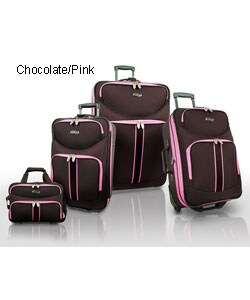 This 4-piece luggage set by US Traveller, for instance, looks ready to go nearly anywhere. What's more, it's distinctive enough that it's unlikely to get confused for someone else's bags at airport baggage claim! Shown here in chocolate/pink, it also comes in navy/baby blue or spice/orange. It's made of sturdy 1200 denier polyester with retractable handles and in-line wheels for easy maneouvering in busy terminals.
Comes with a 21″ upright, 26″ upright, 30″ upright, and matching tote to carry on with you. Oh, and a six-year warranty. Not bad.
But best of all, it's on a great sale at Overstock.com. Originally priced at $599.99, Overstock.com has slashed the price to just $124.99. At that price, you'll have enough left over to actually get a ticket to ride!