Flower motif jewelry is a classic for a reason. It's appropriate no matter the age of the wearer and is infinitely adaptable to personal style. Flowers can be represented in nearly any medium. They may be hammered out of silver or sculpted out of clay, or – as in this case – carved out of lucious, cool jade.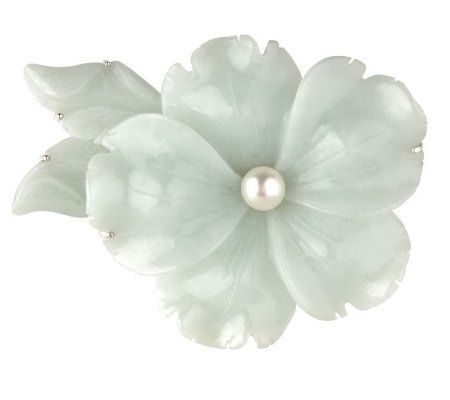 This elegant camelia brooch is carved of jadeite jade set in sterling silver with a single button-shaped cultured freshwater pearl to enhance it. What's more, if you don't care for the green color shown, it also comes in white, pink, or lavendar.
The retail value of this beautiful piece is $185.00, but I know where you can get it for a lot less. QVC. That's right, QVC. They intend to carry it for only $146.00, but right now you can get it for even less. As an introductory deal, it can be yours for just $132.36. But hurry! A deal like that won't last forever, but this fabulous brooch will.