Regular readers of this space are familiar with the name YOOX. After all, they discount designer fashions and accessories every day of the year. That means when they decide to blow things out, you're getting them at an incredible deal you'll never find anywhere else.
Well, right now they're having a huge sale. If you act now, you can save up to 90% off their already insanely low prices. You'll have to hurry, though, because the sale ends on the 19th.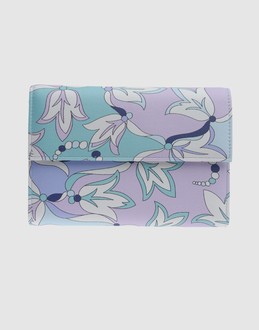 This fun yet elegant Emilio Pucci leather wallet features the signature splashy, colorful print typical of the line. It also has a practical snap closure and internal coin pocket. When you pull this baby out of your purse, those in the know will be very sure who designed it, and those not in the know will probably still get a smile from the cheerful colors and exuberant lines.
How much did it cost originally? YOOX isn't telling. But YOOX was selling it for $301.00. For a limited time, though, they're selling it for just $150.00. That's half off the low, low YOOX price! If I were you, I'd get my skates on!