Tax rebate checks are winging their ways across the country. On average, single Americans will be receiving $600.00 in order to stimulate the economy. President Bush has said that saving that money won't help, nor will paying down debts. Therefore, I'm here to help us all do our patriotic duty to find a good way to spend this windfall. Of course, I believe firmly that just because we're stimulating the economy doesn't mean we can't do so through finding good deals.
So how do you spend $600.00 and still save? I thought you'd never ask.

One great way to spend that much moolah in one place is to head over to Sur La Table and take advantage of their amazing deal on this 9-piece set of All Clad stainless steel cookware.
The aluminum core is lined with non-reactive stainless steel and coated in 18/10 stainless. The set includes a 10″ skillet, 2 qt. saucepan with lid, 3 qt. saucepan with lid, 3 qt. saute pan with lid, and a 6 qt. stockpot with lid. The set is handsome and practical, with stay-cool handles and a lifetime guarantee. Normally this set would set you back $835.00, but right now it's on a great sale for $599.95. But wait! There's more! There's also a mail in bonus offer. Spend $250.00 or more on All Clad cookware, and mail in the coupon (there's a link from the page with this set for the pdf file) for the free All Clad Kitchen Essentials Set including: an All Clad recipe file, a pair of All Clad stainless steel tongs, an All Clad stainless turner, and two signature All Clad towels. Now that's the way to stimulate an economy!
Of course, a good set of knives is an important if you want to make good food. That's why I'm salivating at the sight of this fabulous Wusthof 23 piece cutlery set on sale at Cooking.com.
It includes 22 great knives and a handy wood block to store them in. Wusthof knives some of the best. They're comfortable in the hand, well balanced, and keep an edge nicely. I use mine almost every day. If you like to cook, you'll love them. The suggested retail price on this set is $752.00, but Cooking.com has it for just $599.95. On top of that, if you use code C95925, you can also get $5.99 flat rate shipping on it.
Not much of a cook? Don't worry! There are plenty of other great ways to spend that money. For instance, we can all use a truly kickass evening bag that won't go out of style quickly.
This whimsical yet classic Christian Louboutin evening purse is a tongue in cheek tribute to Christo. The satin bag is wrapped in a black rope with a matching black tassel. Usually, this bag would cost you $725.00, but Bluefly will save you 20%. That means you'll only pay $580.00. I'm sure you can come up with a way of using the other $20.00 to stimulate the economy.
Of course, with $600.00 at your disposal, this might be a good time to invest in a really nice piece of furniture.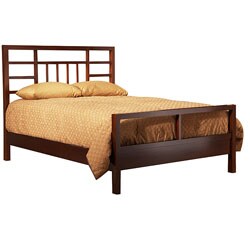 How about a king-sized bed? This handsome platform bed is constructed of solid tropical mahogony with a rich spice-colored finish. It can be used with or without a box spring (not included). Yes, you'll have to assemble it on delivery, but one customer said she did it herself helped (or is that hindered?) by her eight-year-old son. Not bad.
Originally priced at $899.00, Overstock.com carries it right now for just $599.99.
Or maybe you'd like a piece of furniture you don't have to assemble yourself. In that case, consider heading over to Smart Bargains.com and taking a look at this comfortable and classic Brown Joshua club chair.
It would look good in a traditional or a contemporary room. It's made of solid kiln-dried wood and leather that will easily work with almost any decorating change you may make to the rest of the room.
Originally priced at $862.50, it's been marked down to a thrifty $599.99.
Of course, you can always go for something more personal, like a piece of jewelry.
How about this spectacular sapphire and diamond star ring from Goldenmine.com? It's sure to get noticed wherever you wear it. Suggested retail price is $968.97, but it's on sale for just $573.83. Deals don't get much better than this.
Whatever you spend your tax rebate on, just be sure to look for a good deal!