For those of us lucky enough to have nice backyards or good-sized front porches, the warming weather leads almost inevitibly to the dream of sitting outside with a cool pitcher of some cool drink and a good friend. Mr. Twistie, if you're reading this, let's make the dream come true this year. In fact, I've found a set I think would look great on our porch, and it's even available at a great bargain price!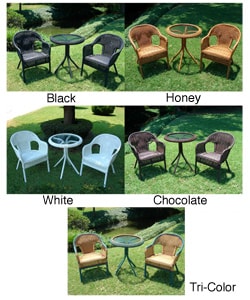 The wicker chairs and table base are actually made of weather resistant resin over a sturdy steel base. Oh, and it appears that the color options currently available are white, honey and sage. I don't know about you, but I'm kind of loving the honey.
Thanks to Overstock.com, it's quite affordable, too. If we went somewhere else, it would run about $499.99, but at Overstock.com, it's going for just $269.99. I don't know about you, but saving more than $200.00 on a dream sounds great to me!