With the advent of spring and summer weather, it's important to have a really fabulous party dress that can also beat the heat. It needs to be gorgeous, too. Being versatile enough to be worn to day or evening events is also a useful thing.
Liz Claiborne brings us this smashing tulip red dress that will look superfantastic whether you wear it to an outdoor wedding or a cocktail party or a theater opening.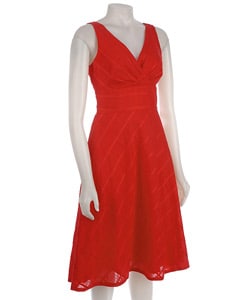 The flirty lines and empire waist are trend-perfect for the season, but the subtle Swiss dot on tonal plaid pattern give it a twist that will express an individual style. But wait, there's more! With 100% cotton shell lined in 100% polyester, it's machine washable for easy care.
Best of all, it's on sale right now at Overstock.com. Once upon a time you'd have had to spend $119.00 to get this great designer dress. Not anymore. Overstock.com has it for just $69.99. That's a savings of 41%.
So be the lady in red at your next event. Nobody will forget you.