I have long adored the look of a Tiffany lamp. The jewel-like colors, the warm glow, the graceful lines all delight me. Alas! these fine attributes do not come cheap. The simplest table lamp in the style often costs hundreds of dollars. There are imitation stained 'glass' lamps in the same style, but they invariably look cheap, tacky, and fake as hell. I thought I would have to go my entire life without one of these beautiful lamps all because I keep refusing to win the Lotto.
Well, now I can see the lamp of my dreams is within my grasp. A quick glance through the lighting section at Overstock.com showed me dozens of gorgeous real stained glass lamps at insanely low prices. Whether you're looking for a ceiling fixture, wall sconce, table, or floor lamp, you can find the real deal made using the same techniques Tiffany himself did at a pittance.

Take, for instance, this quirky table lamp.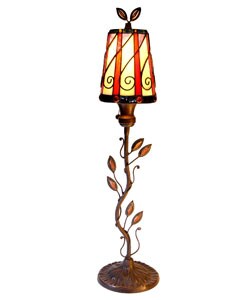 It's festive scrolls and cheery colors would add whimsey to any room, but it's the bargain price that caught my eye. Originally priced at $599.99, it's now marked down 87% to just $79.99! $79.99 for a handmade stained glass lamp!
Or, if you're looking for something slightly more traditional, you might want to cast your eye on this handsome dragonfly table lamp.
Again, this is handmade using the techniques pioneered by Louis Comfort Tiffany, and again the price has been slashed to a ridiculous (but very welcome!) extent. Originally $599.00, it's now available for just $67.99! That's 87% off the regular price!
I don't know about you, but I see some stained glass in my future.