Sometimes it takes a little hunting to find the perfect perfume. Even if it smells good in the bottle, that doesn't mean it's going to react well with your particular body chemistry. You may find that while it smells pretty, it doesn't really excite you enough to be your signiture scent. You may simply prefer variety over consistency and not want to settle on just one perfume for all occassions.
But buying perfume gets pricey awfully quickly – particularly if you prefer designer scents.
What to do? Why sign up for Perfume Emporium's Mini of the Month Club, of course!
<>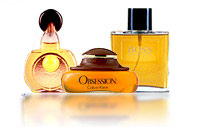 Each month you'll receive a new sample bottle of a designer scent. Calvin Klein, Dolce & Gabbana, Versace…this is your chance to try out those wildly expensive perfumes without spending a lot of money. A six-month membership with cost you just $50.00, a 58% savings over the retail value of $120.00. The twelve-month membership is $100.00, down from the retail value of $240.00. The It also makes a great gift for someone who likes to dabble with scents. There's even a men's mini club for the guy who likes to smell good, too.