It's Leap…day? I'm not certain there's an agreed-upon name for it, but it's February 29th, a day that only appears once every four years. That's great news if you're looking for extra way to save money, because retailers like to celebrate this day more than anyone who wasn't born on it.
Let's take a quick look at some of the extra-special savings available just for today.
Bluefly.com is having a big one-day blowout on literally hundreds – possibly thousands – of designer clothes and accessories. They're taking as much as 65% off the regular prices and including free shipping.

That means you can get this sleek Furla Lovers wallet for just $67.99. That's half off the original price of $135.00.
Meanwhile, Smart Bargains is offering an extra 29% off selected items in honor of the day. That means this funky, chunky aqua quartz necklace is just $42.98 today. Considering that it was originally $135.00, that's a hard bargain to pass up.
And don't forget to take a look at Overstock.com. Their sale is a whopping 75% off on selected items! That means this fabulous freshwater pearl and assorted gemstone necklace by Maddy Emerson will no longer cost you $175.00. No, today only it's just $39.99.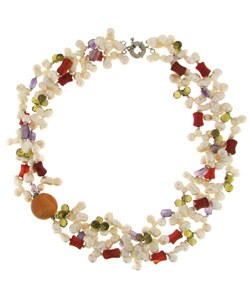 I don't know about the rest of you, but I think I may spend the rest of my day shopping!